Guppylog & The Fancy Guppy Information Center Have Joined Forces!
In order to serve you better Guppylog will now be providing our message board services.
Guppylog is, in my opinion, the best fancy guppy forum on the web. Not only is it an interactive message board but they also provide an online journal service that allows you to keep your friends and family updated on the progress of your fancy guppy breeding program. This service can also be used to keep track of important happenings in your guppy tanks. Guppylog empowers you, the visitors, to be the producers of the site, contributing news, discussions and content. You will be able to access Guppylog by clicking on any of the forum links located on the Fancy Guppy Information Center's website.
If you have any questions you can email me at: guppyaddict@msn.com or Scott at: scott@guppylog.com
Click the logo to visit Guppylog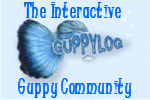 See everyone there!
Happy Guppying,
Jon